Gold Rallying Steadily
posted by RoboForex on 2018-01-15 17:54:53 in gold, xauusd, roboforex, US inflation, CPI | 0 comments

Gold has been growing up steadily this year. By mid January, the yellow metal is at $1344.30, adding 0.7% to its price. Gold started growing in mid December and is moving ahead quite firmly in the lights of the weakening US dollar.
The market does not believe in the greenback and does not pay any attention to the fundamentals. On Friday, the US inflation report came up mixed, with the CPI growth by just 0.1% MoM, as expected. Base inflation did much better, with 0.03% growth MoM, the expectations being at 0.2%, and the previously released number at 0.1%.
Investors believe the Fed will be slower at taking interest rate decisions that it was expected to. One of the reasons is Janet Yellen's successor, Jerome Powell, who is famous for being dovish towards monetary policy decisions. Another one is that there seems to be no point in raising the rate quickly and actively.
Thus, the greenback is under heavy pressure, and while it is so, the gold is rallying. The future looks mixed for the yellow metal: while the weak dollar helps it rise, one can clearly see it's already overbought, and thus will retreat once a decent reason appears.
We can clearly identify a tight ascending channel on H4 gold chart, but still, technically, there are some contradictions. First, the major target of the current move is on the long-term channel resistance at 1384.50. Once this target has been achieved, gold can retreat back to 1330.
However, the price may well bounce from the mid-term range resistance at 1353.36, which could send the yellow metal even lower, to around 1300.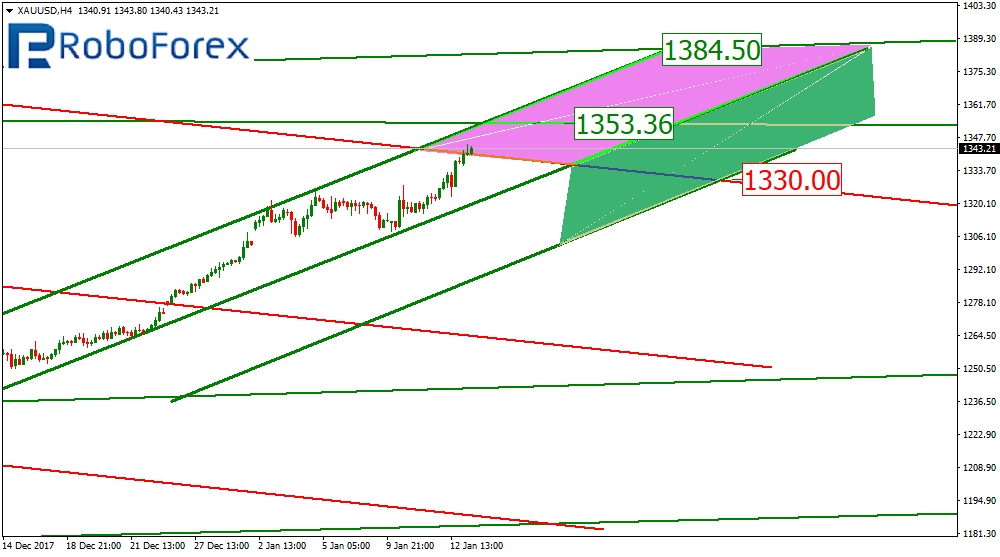 Author: Dmitriy Gurkovskiy, Chief Analyst at RoboForex
Attention!
Forecasts presented in this section only reflect the author's private opinion and should not be considered as guidance for trading. RoboForex bears no responsibility for trading results based on trading recommendations described in these analytical reviews.